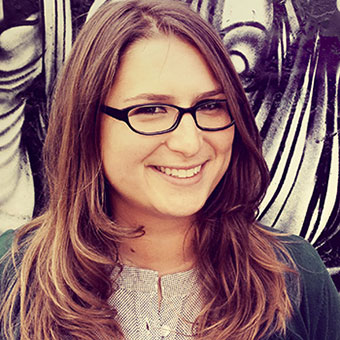 Samantha Warren
Style Tiles: The Visual Voice of Your Brand
A full-day workshop with Samantha Warren.
Style Tiles can help you make decisions faster, but how does a designer makes choices within the Tiles themselves? How do you decide which fonts to present to clients? Which colors? Icons? While intuition can get you started, there are thousands of factors that contribute to every design choice. A digital product's style is their visual voice and it takes an orchestra of tiny elements to produce its final sound. A formulaic approach to that decision-making process can give you and your team the confidence to make transparent decisions with clients.
In the first half of this workshop participants will learn practical steps for how to extract and translate brand attributes into visuals and concrete UI components. Samantha will dissect real life examples and demystify some of the more obscure challenges designers may face when working iteratively with clients and stakeholders. During the second half of the workshop participants will have the opportunity to work in a small group in order to apply the discussed principles with a hands-on example project. This workshop will leave you with a clear and actionable understanding of the style tile process and how to make it work for you to improve efficiency, facilitate clear communication, and make awesome designs for digital products and the web.
In this workshop, Samantha will explore:
Finding the visual voice within your responsive workflow
Getting creative within constraints
Using Style Tiles to find and communicate the visual voice of your brand
Debunking the "magic" of design decisions
About Samantha Warren
Samantha Warren is an experienced designer, speaker, and writer who draws on a diverse background in artistic media to create compelling and functional web experiences.
Focused on designing for content, she is passionate about using the web as a vehicle to tell compelling stories while creating accessible user experiences. She has been published in Net Magazine, and has presented at industry events around the world, including dConstruct in Brighton, England, SXSW Interactive in Austin, Texas, and An Event Apart.
Currently Samantha is an independent designer in San Francisco where she helps everyone from early startups to established tech companies take their products and brand to the next level through design thinking. Most recently she worked for Twitter where she lead the design for their responsive corporate communications platform that helped people around the globe understand the value of Twitter in over 25 different languages and across all devices.
When Samantha is not designing, she enjoys spending time with her family, hunting for mid-century modern furniture, exploring the West Coast, and Instagraming photos of her adorable cross-eyed cat.