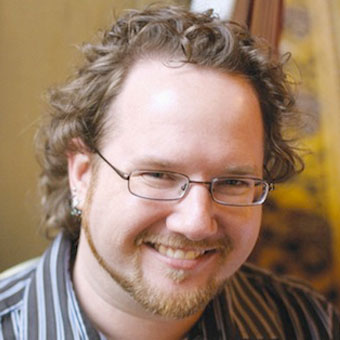 Aaron Gustafson
Beyond Responsive Workshop
A full-day workshop with Aaron Gustafson.
Responsive web design has taken our industry by storm and with good reason: it helps us improve our reach with less effort. But incorporating responsive design is not the goal, meeting our user's needs is. Responsive design is not an end in itself… it's just the beginning.
We need to embrace the heterogenous nature of the web—myriad web-enabled devices with vastly different dimensions, screen sizes, networks, and capabilities in use by countless individuals, each with their own special needs—and craft experiences that will work anywhere at any time. We need to build robust systems that adapt in ways far beyond aesthetics.
Aaron Gustafson will open this workshop with a discussion of a number of considerations that we should be aware of, beyond screen size and pixel density, and provide examples of how to adapt our interfaces so they rise to meet our customers' needs. Then he'll turn it over to you to propose gnarly design and/or interface challenges you are struggling with. Once everyone's challenges are collected, attendees will be given the opportunity to form small groups around each and you will spend a portion of the day working on solutions while Aaron mentors each group and pushes you to think more about accessibility, alternate interaction methods, slow networks, and other considerations.
The workshop will wrap up with brief presentations from each group followed by an open question and answer session.
Falling in Love with Forms
Conference Presentation
Forms. Without them, the web would not be what it is today, but they are challenging from a markup and styling standpoint.
In this session, we will explore forms from top to bottom, examining how they work and how their components can be incorporated with other elements to maximize accessibility, improve semantics, and allow for more flexible styling. You'll get to see the complete picture with forms, including:
new HTML5 field types;
validation, error messages & formatting hints;
how to mark up and style forms for the greatest flexibility in responsive designs; and
best practices for enhancing forms with JavaScript.
About Aaron Gustafson
Aaron Gustafson is the founder and technical lead of Easy Designs, through which he help clients elegantly tackle the challenges presented by all the crazy devices and screens you see everywhere using progressive enhancement.
Aaron managed the Web Standards Project (WaSP) and currently serves as an Invited Expert to the W3C's Responsive Issues Community Group. He is a Rosenfeld Media Expert, Publisher of Web Standards Sherpa, and founded the Chattanooga Open Device Lab. He also co-founded the event series Code & Creativity and Retreats 4 Geeks.
Aaron wrote the web design book Jeffrey Zeldman calls a "modern classic" and Jeremy Keith calls "the clearest, most beautiful explanation of progressive enhancement I've ever read": Adaptive Web Design. He has also contributed to numerous other titles. Aaron has also written dozens of articles, and helped shape dozens more during his tenure as Tech Editor for the esteemed magazine A List Apart.